Share Even More Ideas! Introducing Real-Time Feed Management
Today we launched an exciting new feature that lets you import multiple feeds to your Social Resume, and easily manage the content you share with your Brazen Careerist network. We've also taken our first step towards a real-time experience by utilizing the PubSubHubbub protocol, which allows us to import your new posts immediately. It works […]
Today we launched an exciting new feature that lets you import multiple feeds to your Social Resume, and easily manage the content you share with your Brazen Careerist network.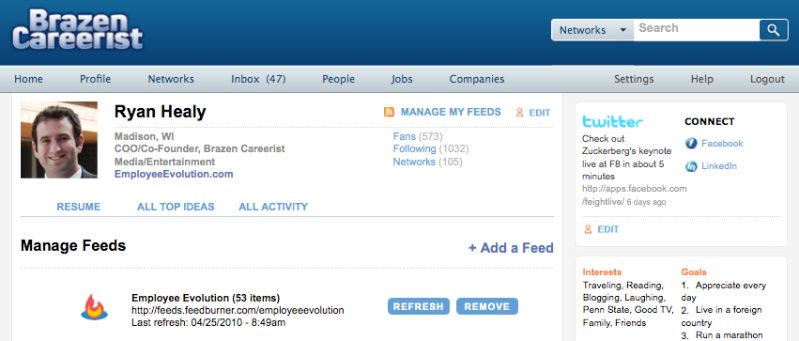 We've also taken our first step towards a real-time experience by utilizing the protocol, which allows us to import your new posts immediately. It works for most of the big-name blog platforms that you all use, including: WordPress, Blogger and TypePad.
Our goal is to let you show the world what you're really all about by going beyond your traditional resume and sharing your top ideas in one place. to make this possible and to make your everyday use of social media truly useful for your career.
With today's real-time feed management launch, you now have the ability to import even more career-related ideas and conversations, and then curate the content that best represents your professional brand by adding it to your Social Resume. And of course, it can all be done in real-time.
To get started, I recommend that you . If you've been waiting all this time to import your 2nd blog because we only allowed you to import one at a time, you're welcome! If you think that it might be relevant to import a feed from Twitter or LinkedIn, give it shot, but use caution! We highly recommend that you only import feeds that are; a) professional in nature and b) don't "pollute" your activity stream with content that is not relevant to your Brazen Careerist network or to your career.
This is also a good opportunity to update or delete any feed URLs that you're no longer using. If you notice any issues with your feeds, for community support.
In the meantime, enjoy these new tools. If you have any feedback leave a comment below or head over to the Community Feedback network and let us know what you think.
If you're interested in learning more about how we integrated with PubSubhubbub and Superfeeder by one of our developers, and the brains behind this new feed system, .