Brazen Turns One, And a Request For Some Community Feedback
Brazen is officially one-year-old this month. We actually launched the site on March 1, 2008, so I'm a couple of weeks late with this announcement, but better late than never. If you were with us the first day we launched you'll remember the photo on the front page was of a woman in a tank-top […]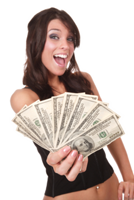 Brazen is officially one-year-old this month. We actually launched the site on March 1, 2008, so I'm a couple of weeks late with this announcement, but better late than never.
If you were with us the first day we launched you'll remember the photo on the front page was of a woman in a tank-top shirt showing her stomach and flashing a handful of $100 bills for everyone to see.
It was obnoxious, a little risqué, and quite frankly, a poor representation of our brand. We really figured this out about a month after we launched. Ryan Paugh and I were driving down the road in Madison and we saw a billboard. As we crept closer, we couldn't believe our eyes, the woman from the homepage was on the billboard, staring us in the face, flashing $100 bills and telling us to go to Ho-Chunk casino!
It doesn't take a genius to figure out that Brazen Careerist and Ho-Chunk casino should not be using the same stock photos. And in this case, Ho-Chunk got it right. We made a branding mistake. But that's cool; we've made a ton of mistakes in the past 18 months. Luckily, we've learned from every mistake we've made, and I'd like to think we're a better company, and better community because of it.
Now we're taking a step back and trying to figure out what to do next at Brazen. We have a million ideas. In fact, our tiny development team could probably spend the next two years building the ideas we've already thrown around. But we want to make sure that the next thing we do really benefits the community.
So we're asking for feedback from Brazen Careerist members, readers or potential members who are just waiting for us to do something really cool before they join. If there was one feature or addition that you would like to see on Brazen Careerist, what would it be? Some of the ideas we're throwing around are creating groups, voting posts to the front page, and playing with the layout of the site so we bring each user the content that they specifically want to see.
Please let us know what we can do to make your Brazen experience better.  No matter how large or small the change is, we want to hear from you, because our community is what will ultimately make Brazen successful.